Introducing the 2022 BMW iX
2023 BMW Performance and Technology
The Era of Golden Age Driving Is Here

CAPACITY
ENGINE
TRANSMISSION
DRIVETRAIN
FUEL CONSUMPTION
Estimated Fuel Economy (city / hwy)
STARTING MSRP
BMW iX xDrive50 Sports Activity Vehicle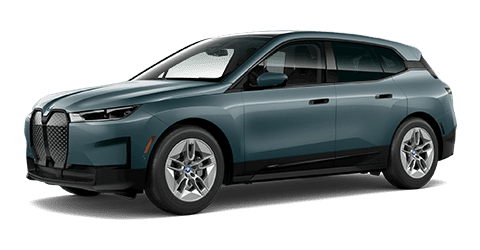 CAPACITY
ENGINE
TRANSMISSION
DRIVETRAIN
FUEL CONSUMPTION
STARTING MSRP
BMW iX M60 Sports Activity Vehicle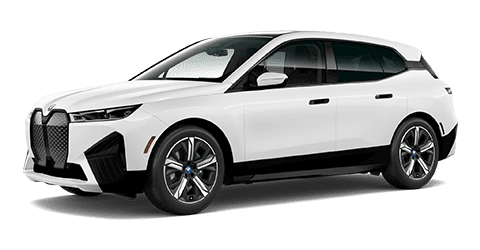 CAPACITY
ENGINE
TRANSMISSION
DRIVETRAIN
FUEL CONSUMPTION
STARTING MSRP
Get to an Electrifying Start with Your Adventures
Taking to the road next year is the dramatic, all-electric 2023 BMW iX. Driving intelligence, sustainability, and style to new heights, this midsize SAV is goodbye to conventional driving, providing a platform upon which the 21st Century driving dynamics are established. The most advanced BMW all-electric ever, the iX embodies an iconic design that bodes well for the future. It's built with 100% renewable energy, offering premium, eco-friendly materials that give the driver a relaxing feel behind the wheel.
The 2023 BMW iX is available in two legendary trims – the xDrive50 and the ultimate M60. Each model is equipped with an all-electric powertrain, assuring you of an intense performance that keeps you ahead of the crowd.
Want to learn more about this unique vehicle? Please read on as we discuss the 2023 iX and then stop by our BMW dealership at South Motors BMW in Miami, FL, to explore further.
Roaring Beauty Personified, Inside and Out
The 2023 BMW iX M60 is a modern take on the SAV. Thanks to its detail-driven exterior styling and upscale cabin with ample room for everyone and every cargo, it turns your short escape into an event you always look forward to. Poking out in style is its 21-inch wheels that combine with a signature kidney grille to exude a breathtaking presence – while the wide rear stance comes distinctive with rear taillights, giving your competitors more than enough drama to watch from behind.
When approaching the 2023 iX, it notices your presence and gives you a positive first impression with a welcome gesture made by a choreographed light display. It then unlocks the door and adjusts to your favorite settings, even before you get to the wheel. On sliding your door open, standard ambient lighting draws you inside the BMW iX interior with your preferred hues. It teams up with the leather-wrapped heated steering wheel and front seats to offer extreme comfort while delivering dynamic performance.




Sophistication Meets Intelligence
Present in the futuristic cabin is a forward-thinking tech that keeps you and your crew connected to the real world. With an upgraded iDrive operating system with available 5G technology, you can enjoy remote access to your BMW, monitor your charge levels, and locate nearby charging stations with ease. Plus, the vehicle's wireless Apple CarPlay® and Android Auto™ integration works with a floating, curved display to offer seamless access to podcasts, calls, and favorite music playlists on the go.
Dominate Every Space with a Peaceful Mind
Driving the 2023 BMW iX not only brings you fun but also gives you a sense of confidence while exploring new terrains. It's designed with a suite of standard safety features such as active blind-spot detection that warns you of vehicles in your blind spots by vibrating your steering wheel. Also, the lane departure warning enables you to return to your lane with gentle steering after an initial drift.

Make the Open Track Your Playground
Setting a benchmark in performance, the 2023 BMW iX xDrive50 is engineered with dual electric motors and a 111.5 kWh lithium-ion battery generating a combined 516 horsepower, thrusting you to 60 mph in 4.4 seconds.
However, the range topping M60 boasts a more frightening performance with a delivery of 610 horsepower by the same electric powertrain in the xDrive50. This power output is enough to zip up 60 mph in 3.6 seconds, with a top speed of 155 mph. The battery pack can be charged from 0-100% with a level 2 charger in 12 hours to knock out 288 miles on a full charge and only 90 miles when subjected to a 10-minute DC fast charging. Optimizing traction between the front and rear wheels and delivering precise poise on twisty roads is a combination of standard all-wheel drive and adaptive air suspension with rear-wheel steering and electronic dampers.
2023 BMW iX for Sale in Miami, FL
Ready to explore the 2023 BMW iX? Visit South Motors BMW in Miami, FL, today. We invite you to our dealership to learn more about this game-changing all-electric SUV and our complete inventory of new and Certified Pre-Owned BMW SUVs, sedans, and electric vehicles. We want to make your experience with us a memorable one, so we have put everything in place to ensure a smooth and seamless experience for you, whether you are here to shop, purchase and/or service your vehicle.
Our friendly sales staff will answer your questions and enlighten you on vital details you should know about the iX, from the top-of-the-line 2023 BMW iX M60 price to available federal incentives, warranty coverages, and more.
Visit us today to learn more!