2022 BMW 7 Series: Luxury at its Finest
2022 BMW 7 Series: Luxury at its Finest
New 2022 BMW 7 Series Exterior Features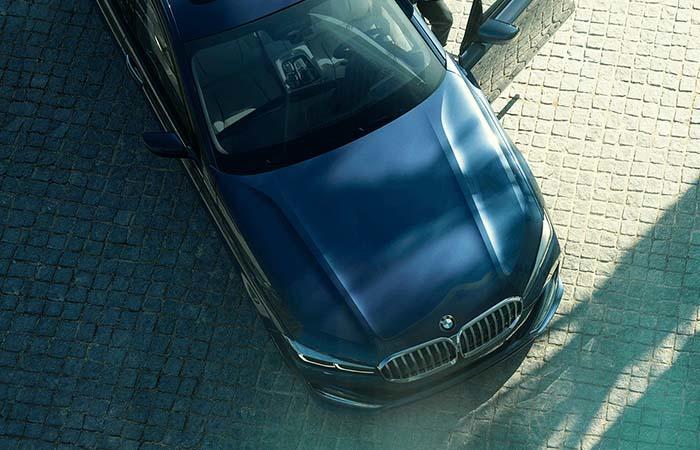 Take Corners Like a Boss
The 2022 BMW 7 Series may be a luxury sedan, but it's meant to handle the roads with seamless precision. Not only does every model come with a smooth-shifting 8 speed automatic transmission, but Intelligent All-Wheel Drive is also available. However, even with the rear-wheel drive models and the highly-calibrated driving modes, you will experience complete body control and superior cornering from behind the wheel.
Five Potent Powertrains to Choose From
There's no lack of power with the 2022 BMW 7 Series. This model year of the flagship sedan offers a standard 3.0-liter TwinPower Turbo inline 6-cylinder, but you could also enjoy the 4.4-liter TwinPower Turbo V8 or the mind-blowing 6.6-liter M TwinPower Turbo V12 engine. With the ALPINA B7 models, you gain a 4.4-liter ALPINA Bi-Turbo V8.
However, the most efficient in the bunch is the 3.0-liter TwinPower Turbo inline 6-cylinder combined with an electric motor on the new 745e xDrive. This plug-in-hybrid model can travel 17 miles on electric alone for superior urban travel.
Superior Protection for Your Drive
Whether you are taking executives to a meeting or you are traveling with your family, you want to know everyone in your 2022 BMW 7 Series is protected. Thankfully, every new BMW 7 Series comes with the latest safety innovations and structural additions for your peace of mind. With the standard Active Protection System, the car prepares itself when a crash is imminent, closing the moonroof and windows, while also pre-tensioning the seat belts automatically. This system, combined with all of the other technologies, ensures the impact is reduced.
Using Active Driving Assistant for Your Security
With the standard Active Driving Assistant on the 2022 BMW 7 Series models, you gain all of the high-tech features that protect you and your passengers. For example, the Parking Assistant Plus utilizes parking sensors to give you more confidence about getting into tight spots.
Additionally, the included Blind Spot Detection is consistently providing reliable blind spot monitoring so you know what's happening around the vehicle before you make lane changes. These are the same systems found on the 2021 BMW 7 Series, helping it become a highly rated luxury model, so we already know they are going to outperform what's found with the competition, such as the Mercedes-Benz S-Class or a new Rolls Royce.
New 2022 BMW 7 Series Interior Features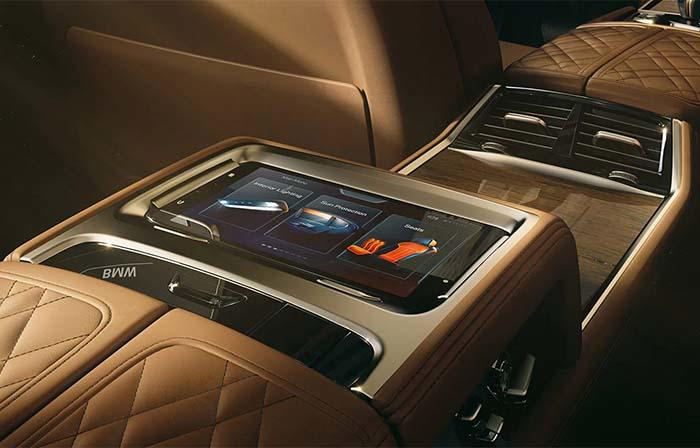 Setting the Mood for Any Occasion
The BMW 7 Series 2022 interior is designed for your enjoyment and comfort. With the available Panoramic Sky Lounge, you can create the perfect environment with the Ambient Lighting. In addition to offering supple and comfortable seating for five passengers, there's also an 18.2 cubic-foot trunk in most models, offering more than enough space for your briefcase or luggage.
High-End Materials for Relaxation
Now that the 2022 BMW 7 Series release date has occurred, you are ready to experience all of the luxury seating and materials inside the cabin. Everything that you touch is meant to be breathtaking and opulent. From the leather upholstery to the complete customization options, you can create the bespoke BMW of your dreams.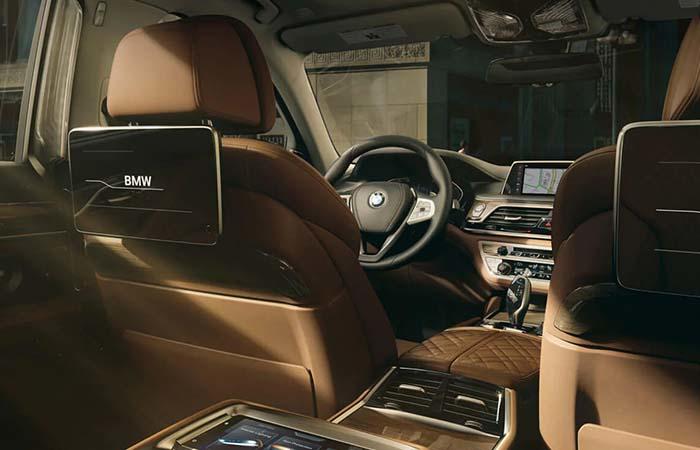 Overflowing with Advanced Technology
Luxury means nothing if the technologies aren't innovative and seamless to use. Thankfully, the 2022 BMW 7 Series ensures all of the lavish touches and features are always at your fingertips. Whether you are taking advantage of the standard 16-speaker Harman Kardon audio system or the Apple CarPlay® and Android Auto™ connectivity, you will never lack for entertainment. Plus, your passengers in the rear seat can also have an enjoyable ride with the available Rear-Seat Entertainment system that makes every ride more thrilling.
Making the Mundane Better Than Ever
The new 2022 BMW 7 Series comes with the high-tech features that make your life easier. Take the available Remote Control Parking function for example. With this technology, you can get out of your vehicle and park it into a tight spot or garage with your remote control. Completing everyday tasks, such as these, has never been easier.
Test Drive the Sixth-Generation 7 Series
You have worked hard to accomplish your goals and it's time to treat yourself to the finer things in life. The 2022 BMW 7 Series provides everything you deserve from a comfortable interior to high-tech connectivity features for a relaxing ride. The experts at South Motors BMW are ready to explore all of the options and powertrain configurations with you to find your perfect fit. Schedule your test drive today in Miami, FL.