2020 BMW X6: The Ultimate Performance SAV
2020 BMW X6: The Ultimate Performance SAV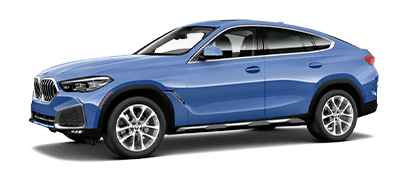 BMW X6 SDrive40i
Starting MSRP of $ 64,300
EPA-Estimated 21/ 36 City Highway MPG
3.0-liter TwinPower Turbo inline 6-cylinder
335 horsepower & 330 lb-ft of torque
8-speed Sport Automatic transmission with automatic Sport and Manual shift modes
Rear-Wheel Drive
20-inch Wheels
Apple CarPlay Compatibility
HiFi Sound System with 10 speakers and 205-watt digital amplifier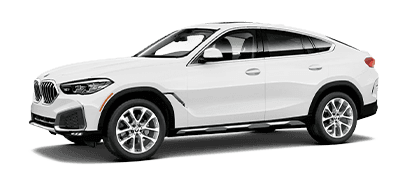 BMW X6 xDrive40i
Starting MSRP of $ 66,600
EPA-Estimated 20/ 26 City Highway MPG
3.0-liter TwinPower Turbo inline 6-cylinder
335 horsepower & 330 lb-ft of torque
8-speed Sport Automatic transmission with automatic Sport and Manual shift modes
All-Wheel Drive
20-inch Wheels
Apple CarPlay Compatibility
HiFi Sound System with 10 speakers and 205-watt digital amplifier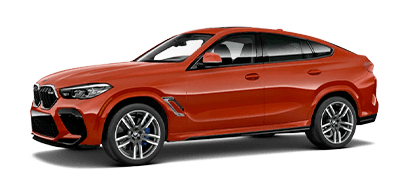 BMW X6 M50i
Starting MSRP of $ 85,650
EPA-Estimated 16/22 City Highway MPG
4.4-liter TwinPower Turbo V-8
523 horsepower & 553 lb-ft of torque
8-speed Sport Automatic transmission with automatic Sport and Manual shift modes
Rear-Wheel Drive
20-inch Wheels
Apple CarPlay Compatibility
Harman Kardon® Surround Sound Audio System
New BMW X6 Exterior Features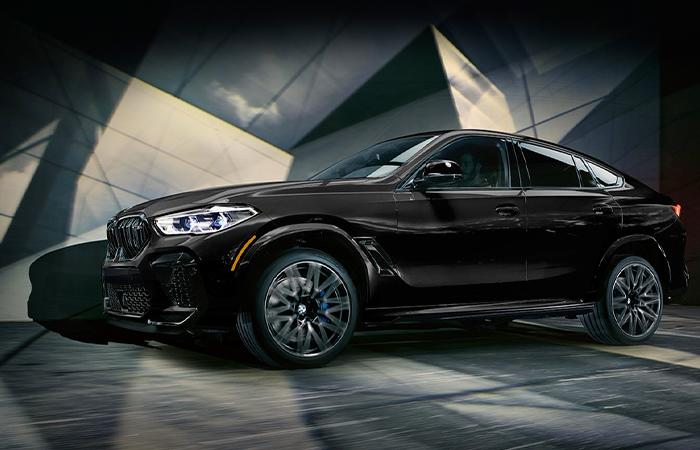 A Track-Like Performance for Your SAV
The 2020 BMW X6 is a sleek and chiseled SAV with the performance to match its wide stance and aggressive contours. With the standard 8-speed sport automatic transmission, your BMW X6 shifts at precise moments so you can enjoy a quick and nimble ride. You can also take full control with the standard steering wheel-mounted paddle shifters resting at your fingertips to fully engage yourself in the ride.
For a track-worthy touch, your 2020 BMW X6 also comes with a Launch Control system to warm up your wheels before you blast off with a top-grade 0-60 mph time. For more track-worthy performance, opt for the available M Dynamics, which packs the signature blue M Sports Brakes to help you stop on a dime and corner like a pro. Meanwhile, the M Dynamics Adaptive M Suspension allows you to choose between smooth and luxurious rides—or aggressive and fast-paced cruises.
Don't let any terrain block your path with the BMW X6 xDrive40i's all-wheel drive system. Even when the South Florida roads get slick after a quick rain shower, you'll stay in full control with premium gripping power.
Two Engines Catered to Your Driving Needs
Standard on the 2020 BMW X6 is a 3.0L BMW TwinPower Turbo inline 6-cylinder motor. With 335 horsepower and 330 lb-ft torque starting at 1,550 rpm, you'll have no issues getting the power you need on backroads and open highways—specifically, you'll have enough strength to dart from 0-60 mph in 5.2 seconds—perfect for merging onto bustling interstates or taking off from traffic lights. Don't worry about losing out on efficiency—with up to EPA-estimated 26 highway mpg, you'll have no issues saving at the pump with fewer visits.
For more power, the legendary BMW X6 M50i's 4.4L TwinPower Turbo V8 packs 523 horsepower and 553 lb-ft torque. This is the motor you'll select when you crave track-tier performance with a 0-60 mph in a rapid 4.1 seconds—and that's on top of the M Dynamics systems packed inside.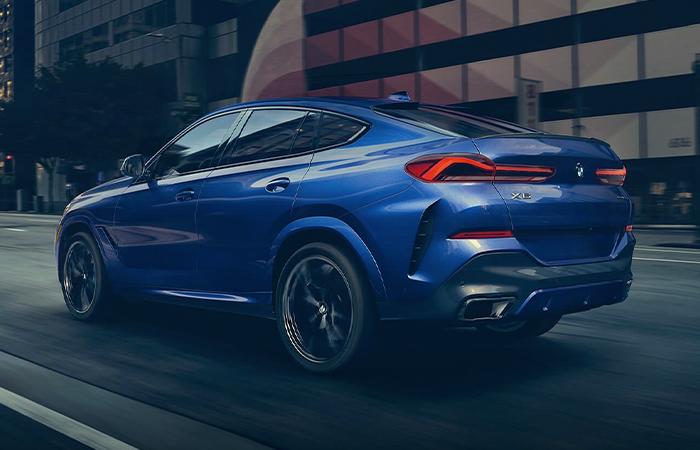 Standard Safety for Your Sporty Rides
Safety is never on shortage when you cruise in the athletic 2020 BMW X6. Even better, most of the features come standard, like the Daytime Pedestrian Protection and Frontal Collision Warning with City Collision Mitigation. Upon detecting an obstacle in the road (like a slow car or a pedestrian) your BMW will send you a warning. If you don't react, the 2020 X6 will hit the brakes for you to mitigate (if not avoid) an accident or fender bender.
Also standard is lane departure warning. When you get distracted or drive on a curvy road and accidentally leave your lane, you'll feel a gentle vibration on your steering wheel—giving you a chance to reposition. It's the perfect tool for avoiding side collisions or accidentally cutting off other drivers.
Know When It's Safe to Merge with Blind Spot Detection
Make your highway drives easy with Active Blind Spot Detection. The moment a car approaches your blind zone from either side, you'll get an alert in your mirror—letting you know to hold off on switching lanes. If you begin to merge, you'll also feel vibrations in the steering wheel to grab your attention sooner.
This system works in parking lots too with Rear Cross Traffic Alert. When you enter reverse, your BMW X6 looks out for cars approaching from either side and will send you an alert upon detecting traffic so that you can avoid those parking lot dents.
New BMW X6 Interior Features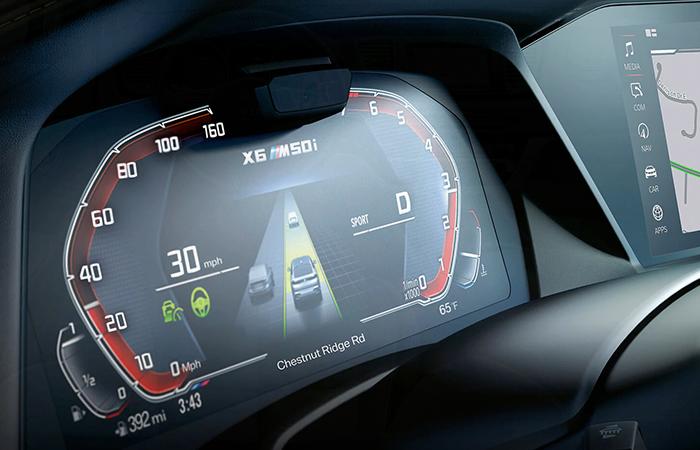 Comfort and Fun Await You inside
Open the door on your 2020 BMW X6, and you're instantly greeted with a standard panoramic moonroof—letting in automatic rays when you open the shade. When the Miami days feel too warm for the moonroof functions, the automatic climate controls offer individual temperature settings for you and your passenger so that you can both ride with the right breeze or heat you need. For brisk or rainy mornings, 3-stage heated front seats come standard to send surges of warmth to your body as you enjoy the drive.
The Look of Athletic Luxury
Kicking back in your 2020 BMW X6 is easy with the standard Vernasca leather upholstery. It's an upscale and sporty look while also offering premium comfort for you as you drive across South Florida. The SensaTec Dash and high gloss wood trim also enhance the first-class experience while giving you the feel of riding in a car built for the track—it's the best of both worlds.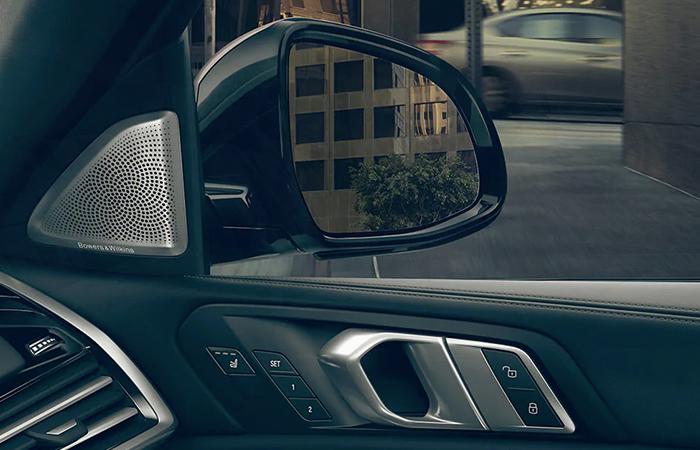 Connect with iDrive 7.0
When you ride in the 2020 BMW X6, the iDrive 7.0 infotainment packs two 12.3-inch touchscreen displays for a modern interior look. You also get BMW Intelligent Personal Assistant to make the controls effortless. Just ask a question in casual English, and your BMW X6 is ready to answer or respond—it'll even learn your language patterns more overtime for a better experience.
To help you find your way around South Florida, opt for the available Connected Package Professional, and you'll have Real-Time Traffic and On-Street Parking. Whether you need the best curb-side spots or to outsmart traffic for the fastest route to Kendall, this package has you covered.
Stay in the Know with Apple CarPlay®
Apple CarPlay comes standard in your 2020 BMW X6. Hook up your compatible iOS device, and listen to your favorite playlists during all your drives. At the same time, you'll also receive instant alerts when you receive a text—and get a chance to respond to your messages without taking your hands off the wheel. Need to schedule a quick reminder? Apple CarPlay can help you do that safely on the road as well.
Experience an Athletic Ride around Miami in BMW X6
When you're ready to experience a ride of luxury and track-worthy speed, stop by South Motors BMW and test drive the 2020 BMW X6. Let a member of our sales team know what features you need, and we'll help you explore trims and packages to help you find a BMW X6 for sale that's tailored around your style.