2019 BMW X1 Makes Every Outing A Luxury Experience
2019 BMW X1 Makes Every Outing A Luxury Experience
BMW X1

CAPACITY
ENGINE
TRANSMISSION
DRIVETRAIN
FUEL CONSUMPTION
Estimated Fuel Economy (city / hwy)
STARTING MSRP
BMW X1

s

DRIVE28

i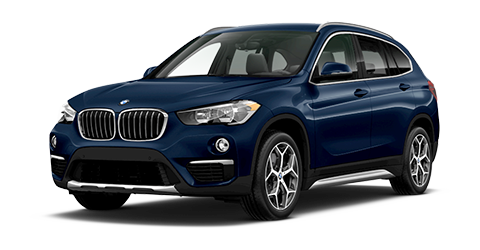 CAPACITY
ENGINE
2.0L TwinPower Turbo 4-Cylinder
TRANSMISSION
DRIVETRAIN
FUEL CONSUMPTION
STARTING MSRP
BMW X1

x

DRIVE28

i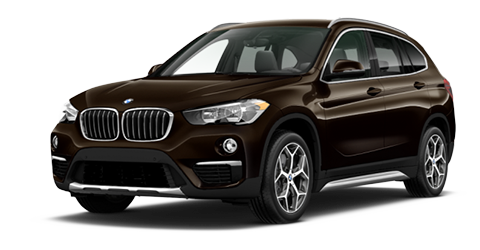 CAPACITY
ENGINE
2.0L TwinPower Turbo 4-Cylinder
TRANSMISSION
DRIVETRAIN
FUEL CONSUMPTION
STARTING MSRP
Experience The Difference In The 2019 BMW X1
If big returns on a small luxury crossover are what you're after, the 2019 BMW X1 is a fantastic way to roll. This elegant 4-door vehicle is an ideal size for those making their first foray into the luxury crossover market. The 2019 BMW X1 comes available in sDRIVE28i and xDRIVE28i trim options. The only significance is that the sDrive is front-wheel drive compared to all-wheel drive with the xDrive.
With an MSRP price starting at under $35,000, the 2019 BMW X1 truly is a tough one to pass up. To get much more information about the X1, or to take a test drive, visit South Motors BMW today.
Big Power For Big Performance
While the 2019 BMW X1 is dazzling in appearance and dynamic with a spacious, comfortable interior, it's also pretty impressive under the hood.
A powerful 2.0-liter TwinPower Turbo 4-cylinder on both the sDrive and xDrive pushes 228 horsepower and 258 lb-ft of torque. The 8-speed automatic transmission helps moves power to the front 2 wheels on the sDrive and all 4 wheels on the xDrive. The 2019 X1 comes standard with perfectly capable 18-inch wheels, though 19-inch wheels are available.
Whether you and the family are out for a long haul or you're maneuvering your way through town, the 2019 X1 is gracefully receptive. To take a test drive and experience the 2019 BMW X1 for yourself, visit South Motors BMW online to schedule an appointment today.




Space And Comfort In The 2019 BMW X1
If you can imagine graceful shaping on an overall masculine shape, you'll have zeroed in on the 2019 X1. In spite of its subdued lines, the exterior of the X1 exudes a look mixed between confidence and charm.
The 2019 X1 comes standard with 18-inch wheels, which suits the crossover's body size well. Inside, the 2019 X1 fashions synthetic leather upholstery seats, leather-wrapped steering wheel and offers available leather and wood accents to elevate the luxurious feel. Sport bucket seats are available. Also available is the option to have the rear seats recline or move forward.
An available M Sport package takes the interior of the 2019 X1 to another level with such additions as real leather and a moonroof.
In addition to 40.4 inches of legroom for front-seat passengers and 37 inches in the back, the X1 also delivers great cargo space behind the second row of seats, more than 27 cubic feet to be exact.
To get a better look and feel for all the 2019 X1 has to offer with its looks and comfort, visit the preferred BMW dealership in Miami, FL today.
Excellent Standard Safety Features
Infotainment is but one way in which the 2019 BMW X1 enhances every drive. When it comes to driver and passenger confidence, nothing elevates it quite like knowing you're in a vehicle stacked with the latest and greatest safety features.
On the 2019 X1, standard safety features include:
Full complement of airbags
Automatic Emergency Braking
Pedestrian Detection
Lane Departure Warning
Automatic High Beams
It's worth noting that as part of its commitment to driver and passenger safety, BMW has made Automatic Emergency Braking standard with the 2019 X1. On much of the vehicle's competition, features such as Automatic Emergency Braking come at an extra cost.

Innovative Technology Features
If you're considering something as luxurious as the 2019 BMW X1, it's only natural to expect the most advanced and assistive technology as part of the big picture. You get that and more with the 2019 X1.
If you're like a lot of drivers, nothing complements any drive like a premium audio system. Every 2019 BMW X1 boasts infotainment features including a 6.5-inch infotainment touchscreen, Bluetooth® wireless technology and Apple CarPlay® (complimentary for the first year).
The available M Sport package includes upgraded infotainment to the likes of a larger, 8.8-inch infotainment touchscreen, navigation, and a wireless smartphone charger.
From classic rock to classical, few things can add appeal to every drive like your favorite music piped through a luxurious infotainment system. To hear more about all the technology and infotainment features on the 2019 BMW X1, visit us today.
South Motors BMW Delivers A Premium Automotive Experience
When you can establish a relationship with a car dealership for all your wants and needs, as is the case at South Motors BMW, it not only saves you money, but time as well.
In addition to great deals on an outstanding selection of new vehicles, South Motors BMW also features a great — and ever-changing — lineup of Certified Pre-Owned and other used BMW models at a fraction of the price of anything new.
If you find yourself at a crossroad as to the best way to finance your new or pre-owned BMW, the South Motors BMW finance center can educate you on everything from car loans to car leases. We also utilize established relationships with banks to help isolate the best loan with the lowest interest rates.
When you invest in a luxury vehicle like a BMW, you certainly want to keep it running like new. We understand you have a lot of choices when it comes to parts and maintenance for your vehicle. But, when you can associate yourself with a service center that makes it their regular practice to go above and beyond as we do at South Motors BMW's service center, you can rest assured you and your vehicle are getting the best service going.
From routine oil changes to more involved repair or genuine BMW parts, choose the dealership with the service center that doesn't just rise to every occasion, but exceeds every expectation.
For all your automotive wants and needs, head in the right direction with South Motors BMW.